Platform services with business opportunities
The platform economy and services are economic and social activities facilitated by platforms. Typical transaction platforms are also known as digital matchmakers. Examples of Kuopio region's platforms include possibilities for data centers in the Savilahti region, smart city and digital services. A second type is the innovation platform, which provides a common technology framework upon which others can build.
In Kuopio region, different platforms provide new business opportunities. For example, Kuopio University Hospital and City of Kuopio offer health data services and business development via the Kuopio data lake, where health data records, images, and other information is stored. Some companies from the Kuopio region offer cloud services as turnkey solutions for several industries to support them and get them ready for the whole journey: from planning and assessment to design and implementation and then all the way to maintenance and support.
A unique aspect of the Kuopio data lake is integrated data from social data to basic and special healthcare data. This data along with analytics can be provided to customers (Pharma companies, data developers and public partners), for example, via the East Finland Biobank and nationally through the Fingen project where genomic data of 500 000 Finns is integrated into health records.

---
The platform services cluster is divided into two main business and development areas: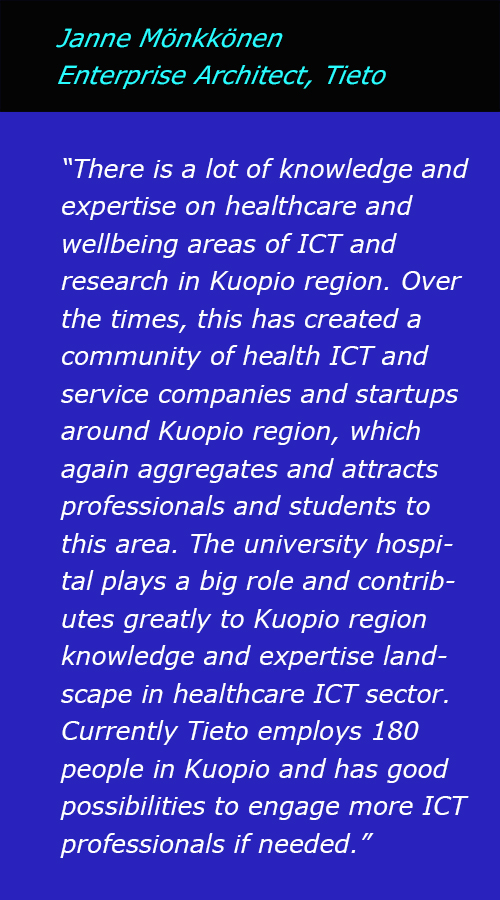 Mikko Juuti
Project Manager
City of Kuopio, Business
Development Services,
Invest & Grow in Kuopio Region
mikko.juuti@kuopio.fi
+358 44 718 2034
Eeva Lehtomäki
Project Secretary
City of Kuopio, Business
Development Services,
Invest & Grow in Kuopio Region
eeva.lehtomaki@kuopio.fi
+358 44 718 2035