NewIcon continues to conquer the world
8.10.2018
Market leader in pharmacy automation in Finland, NewIcon has been systematically aiming to establish a firm foothold in the global market with major expansion into Asia on its current agenda.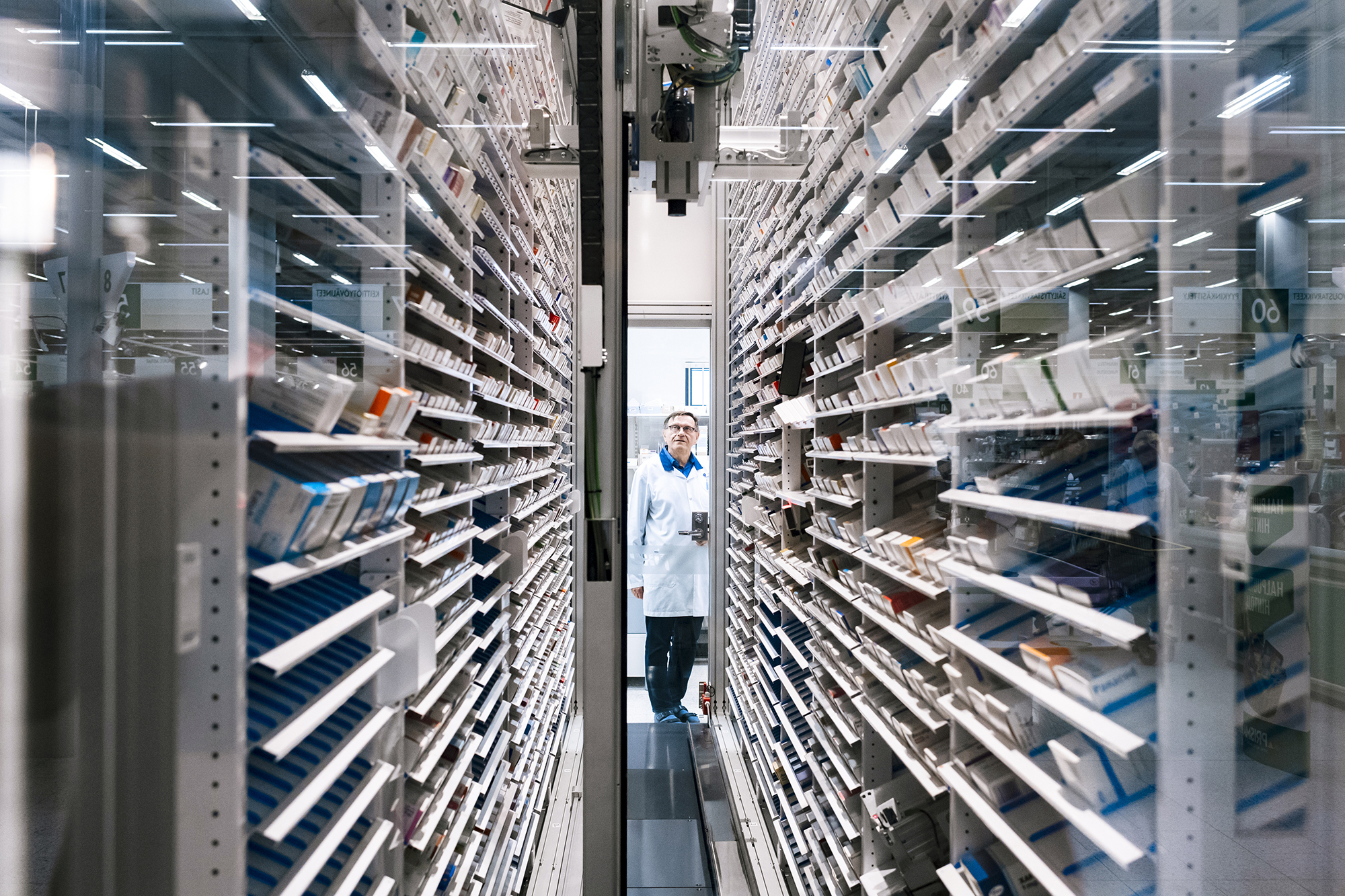 Solutions offered by NewIcon facilitate the processes connected with storage and supply of medicines in pharmacies and hospitals. The company's product portfolio comprises storage retrieval robots, automated dispensing cabinets and a compounding robot preparing antibiotics for intravenous use.
The company delivered a great number of industrial automation devices at the beginning of 2000. The manufacturing industry had already adopted the improved manufacturing process management model (so called lean thinking). NewIcon was in the forefront in deploying lean thinking also in systems delivered to hospitals and pharmacies. Enhancing manufacturing scalability and efficiency is part of their own corporate culture at the same time
"Instead of running faster we shorten the distance. To expedite product lead-time we aim to ensure that the design phase is fully completed prior to the manufacturing process. We also order a great deal from our subcontractor network", says NewIcon's Marketing Manager Jori-Matti Savolainen.
From Pharmacy to Hospital Environment
NewIcon's first medical automation project was the delivery of a storage retrieval robot for the Pielavesi Pharmacy. Experience from that project opened doors to the hospital environment, and Joensuu Hospital was the first one to receive a storage retrieval robot manufactured by the company.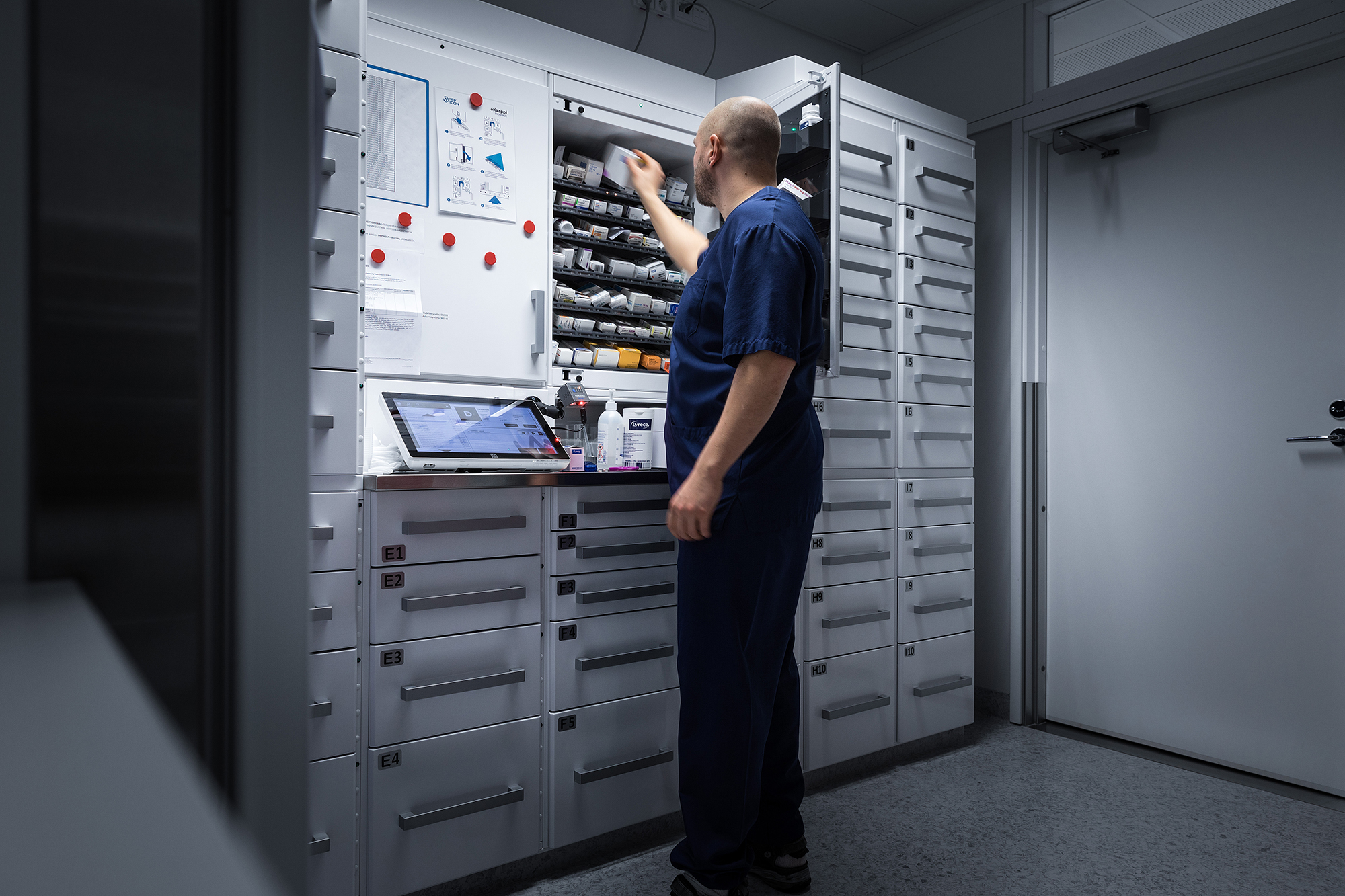 "Our close collaboration with the Kuopio University Hospital (KYS) has also been mutually beneficial. We have been able to test our products in authentic hospital environment while KYS has received innovative hospital automation tailored for their specific needs", Savolainen explains.
One concrete outcome of this collaboration is the pass-through feature of the smart medicine cabinet. According to Savolainen, KYS had already scrutinized the frequency of entries into and exits from the surgery during an operation. The option of filling the automated medicine dispensing cabinet from outside of the operating theatre was one of the core requirements to ensure minimal disturbance to the surgical staff at work.
"KYS was satisfied with our innovative smart medicine cabinet with a pass-through feature while we received valuable feedback from the nurses. Today, smart medicine cabinets are used by numerous hospitals in Finland."
Globalization
The products aroused cross-border interest and NewIcon made its first deals in Russia in 2012. The company's Russian partner had connections in Israel triggering interest and contacts from there, too.
"We were simply drawn to Israel by the markets without a specific market entry effort. After Israel, our next strategical expansion target was the United Arab Emirates and Dubai, in the Near East. Today we operate already in 12 countries", Savolainen says.
Savolainen underlines the importance of choosing the right partner. The company's first partner had done nothing but posted an advertisement on their website of Finnish robots being for sale, wondering why they did not sell. The second one, in turn, was used to selling products with a faster sales cycle. NewIcon's products are investment products and require a partner with a patient mindset to wait for income from the sales.
"Our current partner, a larger regional actor, who understands what it takes in time and resources to sell the products, is already our third. Finding the ideal business partner is just like a relationship between two people, an initial infatuation followed by realisation of the true nature of the relationship much later", Savolainen elaborates.
Cultural differences are not to be overlooked in international operations. The Danes and Swedes, for example, were already familiar with the operating mode of Finnish hospitals, appreciating NewIcon's success in fighting its way into the group of hospital product suppliers. The Danes have admitted that Finland is far ahead of Denmark in medical automation.
The Asian market, according to Savolainen, has nuances unlike any other. An entirely different approach to business operations over there is required.
"We found a Chinese company that shares our goals and established a joint venture. Through them we also found a new investor for NewIcon. Starting from China, we intend to penetrate deeper into the Asian markets into countries like Thailand, Malaysia, Indonesia and South Korea."
Hints on Successful Globalization
Savolainen's recommendation to other companies is to focus first on domestic growth and high product quality in order to gain experience before expanding overseas. Entering international markets without having an established business in Finland may come at a price.
According to Savolainen, in the global political climate of today companies should not harbour the misleading notion that world events would not have an impact on their operations. Because they do. NewIcon's business, for instance, has been influenced by the Ukrainian crisis and the volatility of the Russian Ruble.
"It would not be a bad idea to study which of the companies in the same sector have expanded in the same geographical location and to draw on their experience. It is about taking off your Finnish rubber boots and putting on your international shoes occasionally and boldly asking for advice", Savolainen hints.
Text: Minna Akiola