A global leader in the development of a bio-based economy
Kuopio is home to Finland's top research and teaching facilities in bioeconomy technologies. Our region is a recognized global leader in the development of a bio-based economy providing foreign investors with unique competitive advantages. Industry transformation and commercialization of new bioeconomy products create significant opportunities in Kuopio.
With one of the world's largest available biofeedstocks and world class research institutions (UEF Environmental Dept., Savonia), global companies, such as Finnpulp (investment from Hengan) and Powerflute, have established operations in Kuopio. Moreover, the major wood harvester machine manufacturer Ponsse has their main factory in Vieremä (100 km from Kuopio).
These companies, together with R&D activities in the University of Eastern Finland and Savonia University of Applied Sciences, make the region's bioeconomy ecosystem one of the most advanced in Finland. Furthermore, Finland and the Kuopio region in particular, is also recognized internationally for the commercial application of its R&D expertise in important bioproduct verticals, including areas such as bio-based materials and composites, platform chemicals and intermediates, pyrolysis technologies, and waste to energy technologies (Gasum).
Bioeconomy experts are trained on three levels of education in the Kuopio area, via various study programs in the field of bioeconomy, including forestry, environmental and energy engineering, natural resource management, environmental and biological sciences and biotechnology.

---
Bioeconomy cluster is divided into two main research and development areas: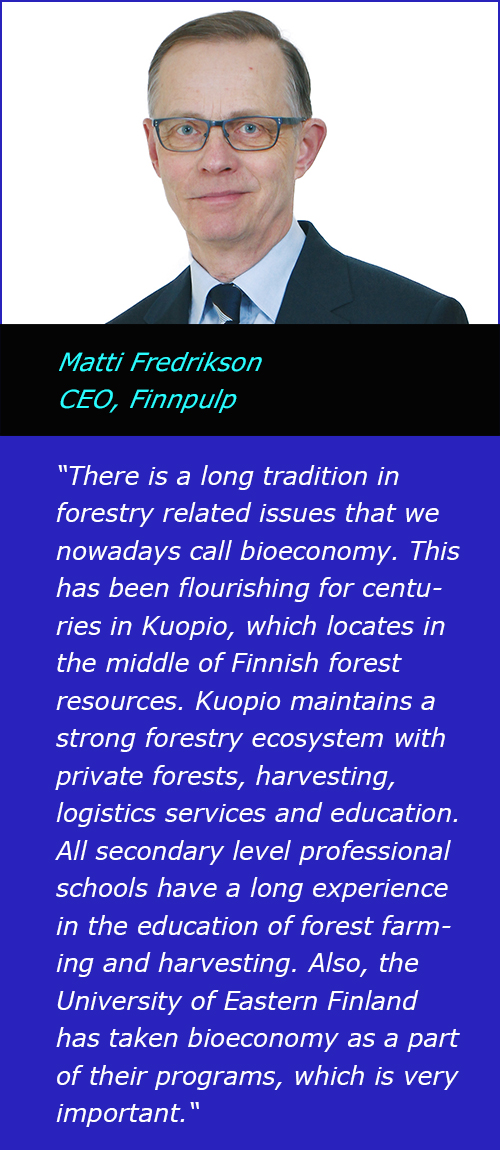 Mikko Juuti
Project Manager
City of Kuopio, Business
Development Services,
Invest & Grow in Kuopio Region
mikko.juuti@kuopio.fi
+358 44 718 2034
Eeva Lehtomäki
Project Secretary
City of Kuopio, Business
Development Services,
Invest & Grow in Kuopio Region
eeva.lehtomaki@kuopio.fi
+358 44 718 2035