Get to know our new talents Parastoo and Olli
17.11.2023
Get to know our new employees; Parastoo Jalili & Olli Kokander. Below, they share in their own words about themselves and their work history.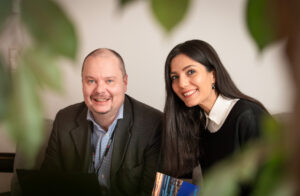 Parastoo Jalili
I'm Parastoo, a Business Advisor working at Business Kuopio, and I've been part of this dynamic team for about a year and a half.
During the period from March 24, 2022, to the end of June 2023, I was involved in the "Invest and Expand in Pohjois-savo" project as a content producer. This was an EU-funded project focused on attracting investments to the North-Savo region, emphasizing the potentials within the Kuopio region.
Since August 2023, I've continued my journey with Business Kuopio as a Business Advisor. This role provides me with the flexibility to work closely with businesses while being involved in organizing impactful events, such as Kuopio Goes Slush 2023. Additionally, I have the privilege of representing Business Kuopio at some national and international events and seminars. As part of my responsibilities, I also collaborate with Business Center North-Savo, primarily focusing on startups.
What distinguishes Business Kuopio for me is not only the great working environment and outstanding colleagues but also the continuous learning opportunities and the opportunity to share ideas with my peers. There's still a long journey ahead, and much more to discover and learn.
You can also connect with me on LinkedIn.
parastoo.jalili@kuopio.fi
044 718 2034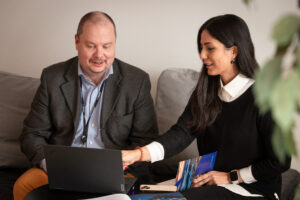 Olli Kokander
I'm Olli, and I started in early September as a business advisor in Kuopio's business services. Working with businesses is familiar to me from my previous job, where I served as a business development manager at SavoGrow Development Company in Suonenjoki. I was born in Kuopio, completed my education here, and after a 15-year stint in Helsinki for studies and work, I returned to Kuopio in 2008 to live and now, in 2023, to work. One could say that the circle has closed, and I'm now able to fulfill my dream of both living and working in my hometown.
My job involves diverse tasks closely related to businesses and their needs, such as land management, facilities, and various development ideas. I also enjoy working with different networks in my role. My workdays involve a variety of tasks, and no two days are alike. I have felt at home in business services since my first day, partly because I already knew almost all my colleagues.
In my new job, I find it interesting to learn new things and meet new people, both as clients and within the city organization. It's truly fascinating to see things from the perspective of such a large city organization.
Let's say hello when we meet. You can find me in the Kuopio Business Development Services.
olli.kokander@kuopio.fi
044 718 2043