Tourism at the heart of Finnish Lakeland and clean nature
Located in the heart of Finnish forests and Lakeland area, the Kuopio region is one of Finland's new emerging international tourism destinations. Kuopio and Tahko are the region's main travel destinations: with their rich nature and snowy slopes and clean lakes, they provide prime locations for large-scale international and domestic tourism development.
The capital of Lakeland is Kuopio, which is known for its thousands of lakes, fun activities, beautiful nature, vibrant events, rich culture and friendly hospitality. Kuopio combines the best elements of a holiday village, urban life and untouched nature. Several businesses offer nature-based experiences, city life, hiking, shopping, skiing, golf, concerts – and of course the Finnish Sauna experience. Tourists may relax in the smoke sauna, visit festivals, or explore the region's versatile restaurants. Kuopio region's business possibilities offer several ongoing projects to invest in and benefit from.
Multiple ongoing investments in Tahko and Kuopio aim to support new emerging businesses. Kuopio offers great partnership opportunities for investors interested in travel and tourism businesses. The City of Kuopio is a partner in several travel development projects in the region. Education programs offered by Savonia University of Applied Sciences and Savo Vocational College ensure that a well-trained talent pool is available locally to fulfill the diverse demands for new workers in travel and tourism businesses.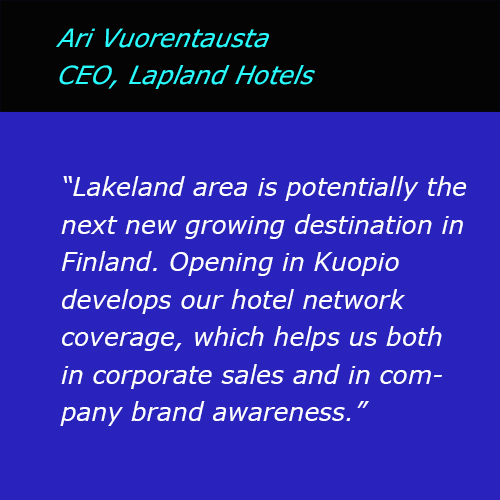 Mikko Juuti
Project Manager
City of Kuopio, Business
Development Services,
Invest & Grow in Kuopio Region
mikko.juuti@kuopio.fi
+358 44 718 2034
Eeva Lehtomäki
Project Secretary
City of Kuopio, Business
Development Services,
Invest & Grow in Kuopio Region
eeva.lehtomaki@kuopio.fi
+358 44 718 2035