Oskutuote has steadily grown into a market leader
8.11.2023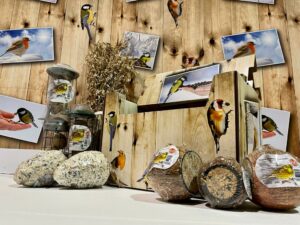 Specializing in the outdoor feeding of birds and pet products, Oskutuote Oy is the market leader in its industry in Finland. The company has been the only supplier of pet hay to the Finnish market already for 30 years and is also the leader in packaging and selling seeds for outdoor birds.
The story of Oskutuote began in the mid-1990s when founder and Managing Director Jukka Puustinen, who was studying at the Kitee Agricultural School at the time, first packaged hay for pets and took it to a shop to sell.
"There was a demand for hay and I started marketing cooperation with the pet supplies wholesaler Kerox Oy. More products were gradually added to the selection, such as seed mixes for outdoor birds. I contacted S Group and Kesko and secured them as our clients. That's when the operations of Oskutuote really took off," says Puustinen.
Investing in machinery paid off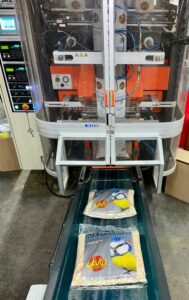 The company faced some initial challenges as it had to fund its growth, including machinery investments. However, investing in machinery paid off. Oskutuote is the only hay and bird seed supplier in Finland to have this type of packaging machinery.
"One of the keys to our success is definitely having the right machines for our operations. Another asset is being near our customers and packaging products according to our customers' needs. Many of our competitors sell products that are packed abroad, which means that supplier reliability is affected by things like strikes and other logistical hurdles. Shops want to get goods on the shelf fast, but not too many all at once," says Puustinen.
Oskutuote uses a lot of domestically grown grain, such as oats, but the nuts and sunflower seeds in the bird seed mixes are imported. One of the supplier countries is Ukraine, which continues to supply sunflower seeds despite the war.
Cultivation of hay requires special expertise
Funding has since become more easily available, as Oskutuote has built a reputation for reliability in the eyes of investors over its long history. In addition to packaging machines, the company has invested in large dryers that ensure the continuity of business operations during rainy summers.
"The cultivation of hay requires special expertise and is challenging also because the volumes are high and weather can have a major impact on the yield. During rainy summers, we have to dry the crop in dryers," says Puustinen.
The production facilities of Oskutuote are located in the municipality of Karttula, on Puustinen's home farm. The hay comes from the fields surrounding his wife's home farm in the neighbouring municipality of Tervo. Puustinen believes that it makes no difference whether a company – regardless of its industry – is located in rural North Savo or elsewhere in Finland. Goods travel just as smoothly across Finland, no matter where you are.
Entrepreneurship requires a passion for your field
The company has small-scale export operations in Sweden, but Puustinen feels that the domestic market keeps them busy enough. Turnover has grown steadily, and the operating result goes hand in hand with this. Entering the international market would require more resources, and Puustinen has no interest in expanding the business.
"If you ask me, it's time I pass the baton to the younger generation. But driving a business this big forward is quite a process and requires passion for entrepreneurship," says Puustinen.
You have to believe in what you do, he says, and surround yourself with people who can help you succeed if you want to achieve success as an entrepreneur. Your funding also needs to be in order, and you need to redeem the promises you make to customers.
"No matter what industry you're in, you need to do your job and keep your promises. But I don't recommend embarking on the entrepreneurial journey, if you don't have the passion for it. Entrepreneurship requires a passion for your field," says Puustinen.
Website of Oskutuote in English
---
Kuopio is a hub of pet industry companies
The Kuopio region is home to a number of companies in the pet industry. Jukka Puustinen, owner and Managing Director of Oskutuote Oy, believes that this dates back to the time of Kerox Oy, a pet supplies wholesaler that was based in Kuopio. Kerox drew in many smaller companies in the pet industry, and Oskutuote was also one of its partners.
---
Text: Minna Akiola
Photos: Oskutuote