A unique healthcare industry ecosystem
Kuopio offers companies in the health sector a unique industry ecosystem that stimulates innovation, supports research and development, and offers access to experts and talents to bolster business success.
Kuopio's global leadership in health and life sciences is driving innovation in specialist areas such as Metabolic, Heart, Cardiovascular, and Neurological diseases, including Alzheimer's and Parkinson's. The ecosystem benefits greatly from Big Data sources via the region's university hospital's data lakes and through secondary use of health data through Sensors, Robotics, and Internet of Things. Due to robust research and knowhow, Kuopio is considered a part of the main Health Science hub in Finland.
Neurocenter Finland, which has its headquarters in Kuopio, is a one-stop shop for research in neurosciences and product development in Finland, involving the entire spectrum of neuroscience knowhow. It facilitates innovations and the development of new personalized healthcare.
Other strong actors in Kuopio health industry include GE Healthcare, Charles River, and FinVector.
At the heart of our health sciences cluster is the KuopioHealth open innovation ecosystem, which is an innovation alliance between the University of Eastern Finland, Kuopio University Hospital, Savonia University of Applied Science, Savo Vocational College and City of Kuopio, with tens of industrial partners. It is fast becoming one of the world's leading open innovation ecosystems.

---
The health science cluster is divided into three main research and development areas: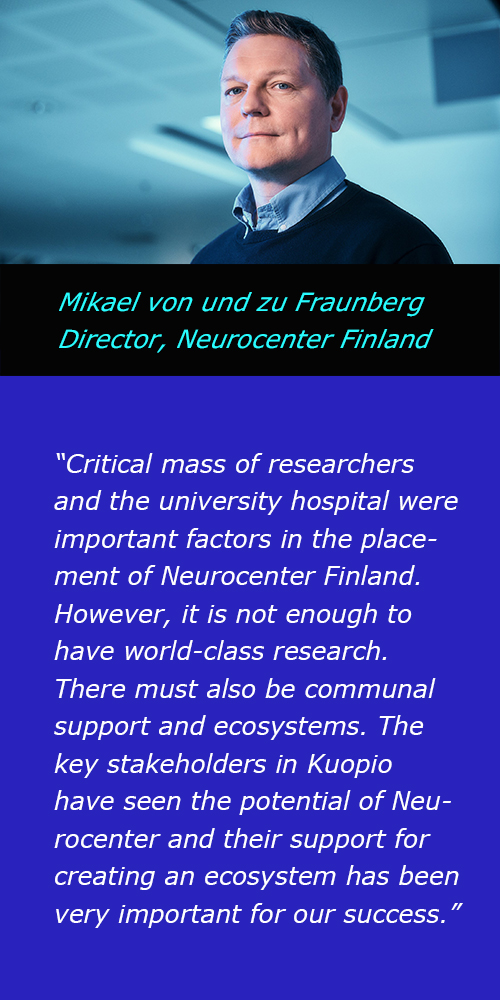 Mikko Juuti
Project Manager
City of Kuopio, Business
Development Services,
Invest & Grow in Kuopio Region
mikko.juuti@kuopio.fi
+358 44 718 2034
Eeva Lehtomäki
Project Secretary
City of Kuopio, Business
Development Services,
Invest & Grow in Kuopio Region
eeva.lehtomaki@kuopio.fi
+358 44 718 2035