All aboard to the China train!
12.12.2019

What connects Shanghai's Pudong over 5 million inhabitants to Kuopio? at first glance, you wouldn't think much things do, because the size difference is so huge. Cooperation has, nevertheless, been going on for a couple of decades and many companies, cultural operators and experts in the Kuopio area have gained a foothold in this fastest growing market in the world. The foundation has a strong business and science park connections, built in the early 2000s, which have continued to be twin city's cooperation in education, and business partnerships. Personal contacts play a key role in China's trade.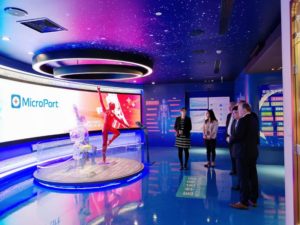 —
Photo: Shanghai Pudong Zhangjiang Hi-Tech Park Science Park has been a key partner between cities. A delegation from the City of Kuopio will visit the exhibition of Microport facilities, a leading biomedical innovation company, in April 2019.
—
In 2017, the first Kuopio goes Shanghai concept tour was organized combining art, tourism and business. As a return of the successful event, the companies gained contacts, experience and concrete sales. At the same time, a new Kuopio goes concept was created, which has since, been used for export to, among others, London, Stockholm and Bodø. Companies in the area have been visiting Shanghai Pudong for years, and as a result of joint trips, companies such as Virranta and RLP Design have gained business partners in China who sell their products and know-how.
It is worthy to make export efforts together
The upcoming Kuopio Goes Shanghai 2020 Business Delegation will be organized in collaboration with the Savonia University of Applied Science, and the Kuopio Area Chamber of Commerce's Fast Track Export Coaching Project. Coaching is an intensive and digitally agile in less than a half year, through which the region's companies visited last year for example to London and heading to Sweden beginning of next year. Export coaching for group search for partners and contacts is tailored to meet the goals and needs of the companies and coached by market experts in the target country. Kuopio Goes Shanghai Export Coaching Participants customize pre-arranged meetings to be included in the Shanghai Joint Travel Program. Major operators like Olvi Group, as well as start-up companies, are coming along. The group is looking for companies from different industries and still there is time to register (during November-December) untill 31st of January 2020.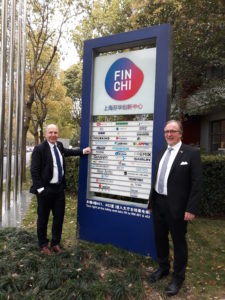 —
Photo: Mayor Jarmo Pirhonen and Deputy Mayor Pekka Vähäkangas at FinChin's office in April 2019. FinChin clients include well-known local operators including Taiga Concept and Mobie.
—
If you are already an experienced Chinese traveler, but not all doors have opened yet, you can also join without export coaching. We provide an opportunity to become a part of the Kuopio City Executive Delegation and take advantage of the communication and visibility of Kuopio goes Shanghai. In addition, you will receive a customized business program and networking opportunities, as well as opportunities for business contacts and promotions. In China, history and the future meet, and in the futuristic metropolis of Shanghai, the pace is breathtaking. Northern Savo actors and local experts will accompany you on a journey to promote recognition of the area and the internationalization of companies. Get your ticket on the fast train and jump to the adventure!
Laura Kokko
Marketing coordinator, the City of Kuopio