Hotel and residential building in Siilinjärvi
Siilinjärvi is located 15-minute drive north of Kuopio and is easily accessible by plane, train and car. During the last ten years, the municipality of Siilinjärvi has actively been developing the city centre. One of the main goals of the development is find a hotel operator and/or investor.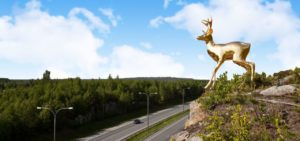 INVESTMENT OPPORTUNITY
Hotel and residential building in the town center of Siilinjärvi
---
INVESTMENT SECTOR
Tourism
---
DETAILS
The location of the hotel would be in the center of Siilinjärvi, next to the grocery store and the Fontanella spa. The structure might be eight-storey tall, including two stories for the hotel and six levels for sellable dwelling flats. First floors may be built for other businesses. The area is 3,200 m2 / floor, and two floors of garage space can be built underground. The hotel is aimed for spa and sports guests and business travellers.
---
OPPORTUNITY
The municipality of Siilinjärvi is looking for an investor and/or operator to develop a new hotel in the city center. Business plan is available in further negotiations.
Hotel investor and/or operator: minimum investment 1 million €
Investor for the whole building: minimum investment 10 million €
Return on Investment 10-20 % depending on investment type
Cooperation with the municipality to lower the risk of investment
Possibility to use local operator or local construction company
---
CONTACT
Pekka Turunen, Business Development Manager, Municipality of Siilinjärvi, pekka.turunen@siilinjarvi.fi 
---