Aurealis Therapeutics is leading the world in developing a new therapy
21.10.2022
Kuopio-based Aurealis Therapeutics has developed a cell and gene therapy platform with a 4-in-1 effect that helps activate the human immune system against severe diseases – no-one else in the world produces a similar medicinal product. The development of the therapy has required not only medical know-how, but also cross-sectoral expertise in licensing, funding acquisition, health economy, production and official regulations.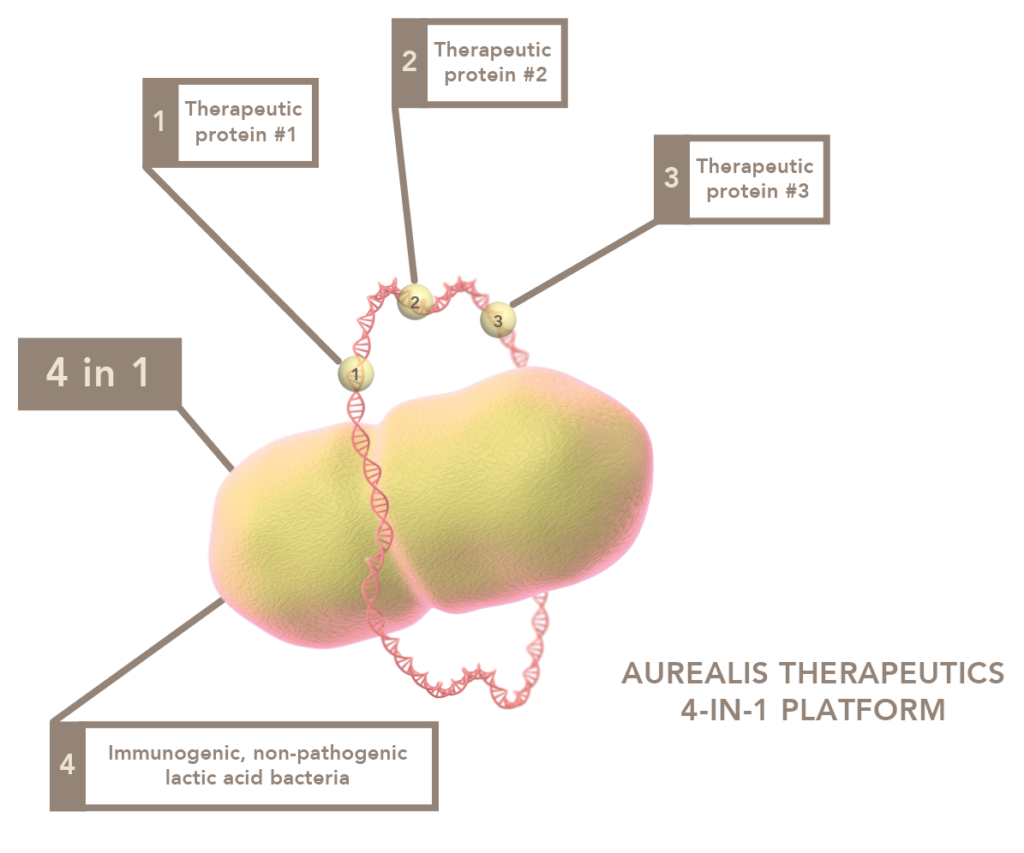 The therapeutic technology developed by Aurealis Therapeutics is based on a simple principle – it takes advantage of genetically engineered lactic acid bacteria that, when applied to a wound or cancerous tissue, start to produce three different therapeutic proteins. In addition to these three proteins, the lactic acid bacteria themselves act as active components. Their purpose is to activate the human immune system. This seemingly simple mechanism is based on ground-breaking new technology, the likes of which no-one besides Aurealis Therapeutics has managed to develop anywhere else in the world.
"We wanted to join forces across several scientific disciplines to create a new treatment option that enables the multi-therapy of difficult diseases with a single medicinal product. One product with only one target is not enough to modify the situation when it comes to difficult, non-healing diseases, such as chronic wounds and cancer. Instead, we need multi-therapy. For example, a cancer patient is typically given multiple different drugs to achieve a therapeutic response. However, developing such multi-therapies for the market is slow, expensive and often downright impossible. That is why our invention has the potential to revolutionize the treatment of cancer and inflammatory diseases," says CEO of Aurealis Therapeutics Juha Yrjänheikki.
Drawing from decades of research experience, the research team at Aurealis Therapeutics has found that the human immune system is an extremely powerful tool, as long as you can get it to do the right things. Founder of the company and Chief Scientific Officer Thomas Wirth, who holds a PhD in Pharmacy, set out to facilitate the development of a new pharmaceutical technology and founded Aurealis Therapeutics in 2010. Yrjänheikki and the other co-founders joined him a couple years later.
From the very beginning, the position of Chief Medical Officer in the team has been held by MD, PhD Haritha Samaranayake. Other team members include long-term gene therapy researchers who have decades of experience in studying inflammatory and cancerous diseases and the significance of immune system cells on human diseases. What the team members have in common is that they are all linked to the University of Eastern Finland in one way or another. The members of the research team have experience in brain research at the A.I. Virtanen Institute for Molecular Sciences and in viral and gene therapy research in the team of Professor Seppo Ylä-Herttuala and in the related companies.
Therapy and the related technology already have international patents
According to Yrjänheikki, the company's cross-sectoral and cross-disciplinary expertise is one of the factors of its success. Medical experience alone would not have brought success to Aurealis Therapeutics, but scientific expertise has had to be paired with skills in acquiring funding, taking out patents, developing and scaling production, health economy, quality management and interpreting regulatory documents. The company's most advanced therapy for non-healing diabetic ulcers is currently undergoing Phase 2 human clinical trials. It will be several more years before the therapy is available in the market, but Yrjänheikki is happy to see that the development process has already reached the final stages.
"It was an incredible moment to be able to prove that our product works. Seeing the first results of the Phase 1 patient trial was one of the best moments in the history of our company. Chronic, non-healing ulcers started to heal thanks to our therapy. This reinforces our belief that our theory also works in practice. We still need more trials with larger numbers of patients, but this is a great milestone."
Another cause for joy is that the therapy and the related technology have already been granted international patents, and the first $140m license and partnership agreement has been signed in China. While this helps the company financially, it also receives support from private and public investors and investment companies whose contribution and importance has been and will continue to be vital, says Yrjänheikki.
Aurealis Therapeutics is a traditional biotech, or drug development company in that its goal is to develop a medicinal product up until a specific phase and then partner with or license or sell the product to a bigger pharmaceutical company. Aurealis has pursued this goal by building long-term relationships with partners, funders, leading researchers, service providers and the entire broad community of its industry.
Yrjänheikki points out that taking care of the matters at hand is not enough in the world of business, but you need to build relationships based on mutual trust – they will carry you through. You also need patience, even though you may not reach an agreement on everything in your first meeting, or you receive a negative response.
"No matter how big the deal or investment, agreements are still made between people. In addition, you need to find a balance between humility and rock-solid self-confidence in business, if you want to keep up with global competition."
Website of Aurealis Therapeutics
---
Roots in Kuopio
Aurealis Therapeutics has built a strong local, national and international network.
"Our roots are in Kuopio, and we know the strengths of the region. Kuopio is home to excellent know-how in the research of cell and gene therapies for the treatment of diseases and drug development," says CEO of Aurealis Therapeutics Juha Yrjänheikki.
The company currently outsources its laboratory operations and its manufacturing and testing services but is considering setting up its own manufacturing facilities in Kuopio. Should these plans be carried out, they will be an investment into the region in the next few years.
---
Text: Minna Akiola
Image: Aurealis Therapeutics