Rammy was born from a passion for entrepreneurship
27.3.2023
Rammy Oy is a family company with a product portfolio of engine-powered property maintenance machines that are fitted to ATVs – specifically snowblowers and various types of cutters. The company does not manufacture its products on its own, but outsources its manufacturing process to a wide network of subcontractors in North Savo. Most of the products are exported.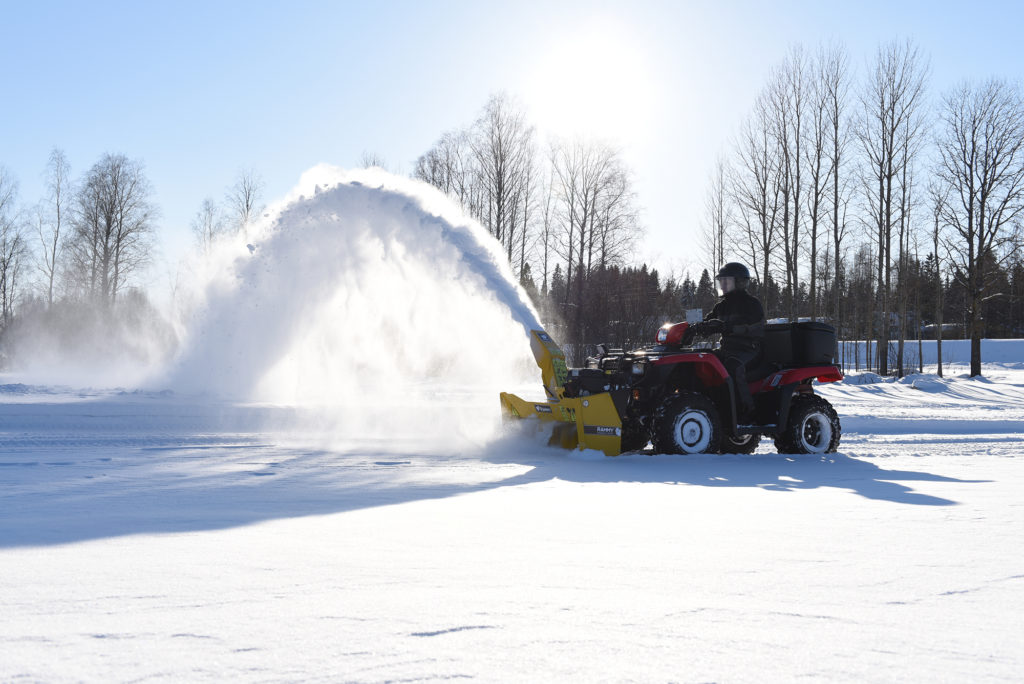 Founder of Rammy Tomi Piironen had been looking for the right business idea for years. With 15 years of experience in designing equipment for the machine and metal industry, one option for Piironen was becoming a consultant. However, that would have taken up too much of the entrepreneur's time.
"In the end, I started leaning towards the idea of designing and manufacturing my own product, because this would mean the business would be scalable and not as dependent on my working hours. Living off the sales margin felt more tempting than selling my own time," says Piironen.
All he needed was a product. The idea came to him while he was clearing snow. Piironen lives in a sparsely populated area where snow was removed using a clumsy old tractor. He sold it and bought an ATV with a dozer blade instead, but during a snowy winter, that was useless for snow removal and there were no suitable snow blower attachments to ATVs available in the market.
"I got excited thinking that this could be my thing. I set out to design the first prototypes of a snow blower for an ATV. When I had a working prototype, I established the company and immediately had a product to sell," says Piironen, summing up his journey.
Lightweight, effective products provide competitive advantage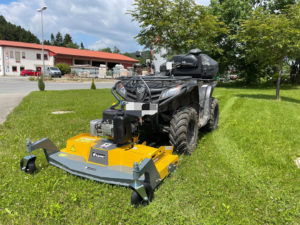 Rammy's competitiveness is based on its lightweight, effective products that have been manufactured using as little material as possible. This was made possible by Piironen's strong expertise in mechanical design and especially sheet metal design.
"Each extra kilogram added to the front of an ATV reduces its usability and manoeuvrability," says Piironen.
He mentions that another factor contributing to competitiveness is that a good team has been built around the product, and each employee takes care of their own playing field. This has allowed the entrepreneur to spend more time on development. In addition, Rammy is surrounded by a great network of suppliers, subcontractors and dealers. The products are outsourced to manufacturers at five different machine workshops.
"You have to see your subcontractors as if they were your own people. It's all about long-term cooperation that also requires a knowledge of human nature and the ability to build effective networks," says Piironen.
Rammy ensures product quality itself
Although manufacturing takes place elsewhere, the products are assembled at the company's own facilities in Toivala. According to Piironen, this allows the company itself to take care of the final, and most crucial, phase of the production chain and make sure that the products going out to customers are tested and meet high quality standards. Of the products, 84 percent are exported, over half of them outside the EU, to America, for instance.
Piironen admits that there were some difficulties in the beginning before the products were good enough and before the company started making enough sales to cover the expenses. What was helpful in the situation was the entrepreneur's constant curiosity to seek out new ideas, combine them and turn them into different products and concepts.
"Despite my curiosity, I consider myself an engineer, not an inventor. There's also a commercial ideology behind our products. Having a brilliant, useful product will not take you far, unless you know how to sell it. You need to shape and polish it to make it look attractive, and your marketing should encourage people and make them want to buy your products – even without testing them first," says Piironen.
Social media jumpstarted internationalization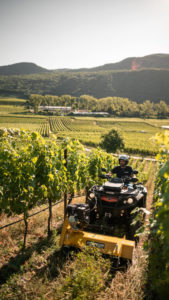 Social media has sped up Rammy's growth into international markets. Videos and other digital content first reached individual people who bought Rammy's products and, after demand increased, dealers have also been found.
"People use their mobile phones a lot and search for information online. Digital marketing is cost-effective and can deliver high visibility across the globe. Interesting videos are viewed and when they start giving us more visibility in our highly segmented market, we start making sales," says Piironen.
Social media jumpstarted Rammy's internationalization process, but the company soon launched regular and long-term cooperation with dealers. Products were exported already in the company's first year of operation. Since then, the annual growth rate has been 35 percent on average and the share of exports has continued to grow.
Strategy gives direction for business development
When asked about advice for other companies aiming for success, Piironen emphasizes the importance of a clear strategy. You should update your strategy often, and get your personnel to buy into all the ideas in the strategy and commit to them. Your strategy should not be copied and it does not have to look pretty. It should contain the competitive factors that are specific to your company, carefully thought out and written down.
"The strategy gives direction for your development, and you need to be able to create it yourself. You may have a consultant to guide you, but there should be an awareness and a deep understanding within the company as to what its competitive factors are – both the internal and the external ones," says Piironen, describing the process.
In practice, the strategy should cover all the areas that make up the company, divided into small pieces. If the company manages to build a good strategy that works, the rest is just implementation of the strategy. As for Piironen himself, his strategic thinking has gradually developed and evolved. It is also linked to management, such as the principles and opportunities that govern the company's operations.
"It's hard to imagine any company achieving success inadvertently or half-heartedly. I believe in in-depth expertise, good conduct and clear goals," says Piironen, to sum up.
---
Plenty of jobs available in the metal industry
Before becoming an entrepreneur, founder and CEO of Rammy Oy Tomi Piironen spent a few years teaching mechanical engineering at the Savonia University of Applied Sciences. This background has helped him as an entrepreneur, while also offering him a great vantage point to the expertise in the region. The expertise is at a good level, but at the same time, Piironen is concerned about the periodic lack of welders, benders and machinists.
There are plenty of jobs available in the metal industry. Piironen has calculated that for every new employee they hire, their networks need to hire three new employees. And since the jobs are in the manufacturing industry, the indirect labour market impact is even greater. He therefore encourages motivated young people to seek employment in the industry. In addition to manufacturing, there is a need for workers in many supporting roles, such as the transportation of goods.
"Business success comes through people. I am happy to use subcontractors in the North Savo region as long as they have enough skilled labour," says Piironen.
---
Text: Minna Akiola
Photos: Rammy Oy