Adamant Health has developed a unique method for measuring the symptoms of Parkinson's patients
31.8.2023
Kuopio-based Adamant Health has completed the first version of a product that will revolutionize the care planning and monitoring of patients with movement disorders, provided that it gains a foothold in health care. The company has received a lot of help from its network and encourages others to pay good deeds forward by asking for help and helping others in return.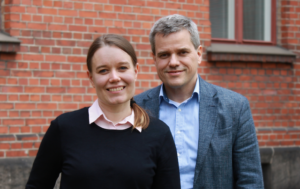 Having studied the measurement of symptoms of Parkinson's disease and other neurological movement disorders at the University of Eastern Finland since 2005, Saara Rissanen was repeatedly approached by doctors asking her whether it would be possible to find a method to identify the symptoms of neurological movement disorders more effectively. Rissanen wanted to put her research findings to good use and in 2017 she applied for Research to Business funding from Business Finland. After receiving funding, she and her team started developing their idea further.
"Inka Mero from Voima Ventures discovered Saara at a pitching event, became interested in her research and started pushing Saara forward. They also needed some business expertise to start a company around the invention. That's where I came in and we founded Adamant Health Ltd. The year was 2020," says the CEO and co-founder of the company Paulus Carpelan.
Carpelan has a couple of decades of experience working at Nokia and ten years of experience in various startups where he productized and launched new products – including health tech ones. This background has proved useful when turning the software-based research method of Adamant Health into a product.
With the help of seed funding, Adamant Health was able to turn its innovation into a medical device early on in the process. After that, the company has been building a service around the product. The model is well-adapted to the world of health care.
Data-driven care planning
As the situation now stands, doctors typically ask patients with Parkinson's disease or some other movement disorder how they have been doing and the patient describes how they feel, based on which physical tests are done to verify the symptoms. The problem is that every patient's condition varies, not just daily, but even hourly, meaning that their condition at the time of the doctor's appointment is entirely a matter of chance. It is difficult to draw up a care plan based on this information.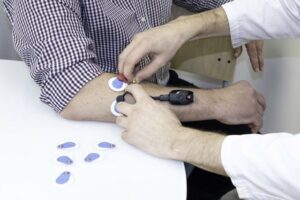 At the heart of Rissanen's research is a method for measuring movement disorders from neural signals sent by the brain from the surface above the muscle. It can be used to measure even very weak signals sent by the brain, even when you cannot physically see anything. This provides greater accuracy than, say, devices that measure hand tremor. Adamant Health uses a device developed by another company to measure these signals and focuses on analysing the collected data.
The method developed by Adamant Health enables the highly accurate measurement of the patient's motor symptoms in a home environment, and the doctor receives data collected over several days that shows how the patient is doing and how their medication is working. This method enables data-driven care planning and monitoring, which can be modified according to need. This means that the doctor can formulate an optimal care plan for every patient and even do this remotely.
"The doctor can write a referral for conducting the measurement and analysis. The measurement can be started at a local health centre or, in the future, also at home. We prepare an analysis based on the collected data. The doctor receives a report of the measurements, based on which they can decide what the patient's care plan will be or update it. With Parkinson's patients, for example, we can use this method to accurately measure motor symptoms. This is important, because up until now, there has not been a good method that is clinically accurate enough for measuring these symptoms," says Carpelan.
Method measures even weak neural signals
"We want to help Parkinson's patients live independently longer and as normally as possible. Unfortunately, we cannot cure the patients' symptoms, but our tool helps doctors do their jobs better. However, pharmaceutical manufacturers can use our system in pharmaceutical research, because it provides objective data about the effects of medication," says Carpelan.
He believes that it is vitally important to give all the patients suffering from movement disorders access to better care also when considering care expenses and the capacity of the health care system. There are about 16 000 Parkinson's patients in Finland, and the United States spends roughly 52 billion dollars per year on treating a million patients. The high costs are, however, understandable – when patients start losing their ability to function, they need help and support.
Company planning to enter German market
The research method developed by Adamant Health is already available to doctors and clinics that want to start using it. Large-scale adoption, however, depends on how quickly the health care sector adopts new methods. The product itself is now ready.
The company has currently set its sights on Finland and the Nordics, but also on the German market, which is the biggest Parkinson's country in Europe with 400 000 patients. Next in line is the United States, but Carpelan points out that, as a startup company, you have to decide where to go and in what order, you cannot do everything at once.
"We just found a German strategic investor, Gerresheimer AG, who will help us with the German market. We have also received funding from Business Finland and the ELY Centre, among others. Most recently, we received Deep Tech Accelerator (DTA) funding, now offered by Business Finland for the first time, which aims to help research-based startups launch their products in the global market. It's a significant and always a major recognition for us when someone invests significant sums in our project," says Carpelan gratefully.
Product should meet customer needs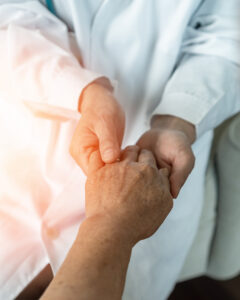 Carpelan wishes that other companies getting started on their journey to success would be courageous. He mentions that a foreign colleague once said that Finnish technology companies and especially health tech companies are some of the best-kept secrets in the world. There are incredibly talented individuals among the founders and employees of these companies, but they tend to focus their attention on technology and research, not so much on productizing and launching products to the market.
"The product has to match the customer's way of doing things. You should also think about how you will communicate whatever world-class thing you're developing with the rest of the world. You need to be courageous and dare to say this out loud," says Carpelan.
---
Kuopio provides good networks for health tech development
Kuopio was a natural choice as the location for Adamant Health, because its product has been developed in Kuopio and the city provides good networks for developing health technology. According to CEO Paulus Carpelan, it is important for an early-stage startup to be surrounded by a network that knows what the company is doing and can provide help. He has found that the Kuopio Health innovation ecosystem is a useful community for this purpose.
"It's an excellent network, but its potential is perhaps somewhat underexploited. I would encourage companies to use it more. Because of its size, Kuopio is a city where people know each other and where it's possible to build complementary activities. Another great partner for us in the Kuopio region has been Kasve Ltd," says Carpelan.
---
Text: Minna Akiola
Photos: Adamant Health / Adobe Stock